Whether your marine activities are personal, commercial, or military, you need a powerful marine propulsion system to keep your processes running smoothly. At Thompson Marine, we offer a wide variety of OEM marine propulsion engines for all your most demanding applications.
If you're looking for a recreational or commercial propulsion engine that meets your ship's requirements, consider partnering with Thompson Marine. Our efficient, dependable equipment will help improve your ship's performance to create a safer, smoother experience for the crew and passengers.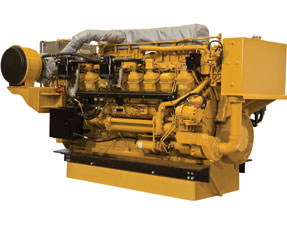 THOMPSON MARINE PROPULSION ENGINES FOR SALE
Caterpillar is known for manufacturing some of the industry's leading heavy equipment and machinery, including a vast inventory of marine equipment. We offer many types of Cat parts and machines to provide industries with high-quality, cost-effective equipment that will last for years to come.
Marine propulsion engines need to be both powerful and durable to manage harsh conditions and heavy loads. All the Cat models we have in stock are capable of this and more. From ACERT models to C280 models and many others, we have commercial marine propulsion engine product lines with machinery built to operate at high power levels and speeds. Many models have low maintenance needs and are designed to offer optimal energy efficiency.
All our engines meet the necessary U.S. EPA and IMO requirements. Whether you're interested in the environmentally friendly design of the C12 Propulsion Engine or the economic benefits of the 3512C Propulsion Engine, we have a solution you can fully integrate with your system and operations.
HOW WE CAN MEET YOUR NEEDS
We're dedicated to making sure your marine vessel has a long service life. As a result, our selection of products is diverse in speed, size, and horsepower. We know we can meet all your needs, because we have experience providing Cat equipment to business leaders and other individuals for many different applications. Our expert technicians and engineers are happy to help you find the right marine propulsion engine to help reduce expenses and increase profits.
Each marine propulsion engine listing includes both the power and speed along with fuel emission requirements, so you know if a product is within the range you're looking for.
CONTACT US TODAY
Our Cat 3512C Tier 3 Marine Propulsion Engines, C280-12 Marine Propulsion Engines, and more are ready to help you make the most out of every outing. The engine is one of the most critical parts of your marine vessel, so purchase one you can rely on from Thompson Marine today.
Browse our product pages for more information, or contact us with any questions today!