AUXILIARY MARINE ENGINES & GENERATORS
When you work in the marine industry, it's hard to imagine where your business would be without reliable primary and backup power. If you're looking for a local source for auxiliary marine engines, generator sets and related power system solutions, Thompson Marine is the one-stop shop for everything you require. We carry a broad range of quality equipment from Caterpillar® and other leading manufacturers and will go the extra mile to ensure you find the right models for your particular applications.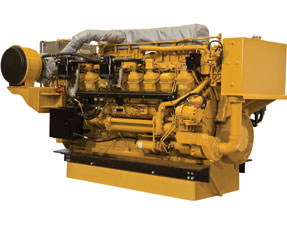 Shop Our Extensive Selection of Marine Generators for Sale
We are home to a massive inventory of electrical power generators for marine applications. Whether you need a solution for cargo and cruise ships or a ferry or pleasure craft, we have you covered. You'll find continuous and prime duty diesel marine gen sets with 50 Hz or 60 Hz frequency and maximum power ratings from 13 ekW to 16,000 ekW. Models are available in a variety of configurations. Our experienced team can deliver a solution suited to your unique marine generator specifications.
In addition to new equipment for sale, we also offer cost-effective used and remanufactured gas and diesel marine generators. We are frequently adding units to our inventory, so get in touch to inquire about current availability.
Cat® Marine Gen Sets
Thompson Marine is proud to carry a complete lineup of marine generators manufactured by Caterpillar that set the standard for dependable performance and lasting reliability. These low carbon monoxide marine generators feature advanced controls and the latest technologies for delivering impressive power and superior fuel efficiency.
Additional benefits and features include:
Emissions meeting strict U.S. EPA Tier 3 and Tier 4 requirements
More than 80 years of proven marine power manufacturing experience
Excellent standard marine power generator warranty and extended options
Customer service and technical support from your local Cat dealer
From quick and easy maintenance and serviceability to Cat Connect remote equipment monitoring, investing in Cat gen sets has many advantages.
Your Single Source for Marine Power Systems
At Thompson Marine, we strive to provide all the products and services you require to optimize your business and improve your bottom line. Whether you're in the market for complete marine generator sets for your tug and salvage fleet or marine auxiliary engines for offshore or inland waterway vessels, you're sure to find the units suited to your requirements. We also offer a broad range of generator parts, supplies, and accessories to help keep your vital power systems operating in peak condition.
Get in Touch About Marine Power Generators
Clients throughout Florida from the Atlantic Ocean to the Gulf of Mexico count on us for the engines and generators that power their businesses. We offer extensive local experience in the marine industry along with world-class capabilities to ensure you're able to access the equipment you need when you need it most. Our knowledgeable and professional team is dedicated to exceeding your expectations and winning your return business.
Contact us online, give us a call, or stop by to see us in person for more information and to request a free quote.
COMMERCIAL MARINE AUXILIARY ENGINES FOR SALE IN AL & FL | THOMPSON CAT®
Thompson Marine offers Cat power solutions for all of your commercial ship maintenance and parts needs. Find the right auxiliary engine for your vessel today!
We sell an extensive variety of Cat marine engines that are customizable to most existing power systems in small to mid-size vessels. We serve Florida and Alabama with top-notch customer service. Browse our selection of marine auxiliary engines and find the right model for you.
RELIABLE COMMERCIAL AUXILIARY ENGINES AT THOMPSON MARINE
Thompson Marine has an extensive selection of commercial-grade Cat auxiliary engines for sale. Whether you need to buy an auxiliary engine for your tug boat, yacht, ferry, or fishing boat, you can find reliable and affordable solutions at Thompson Marine.
Our selection of marine auxiliary engines includes options for a wide range of vessels. If you aren't sure which engine is best for your boat, we have experts on hand to provide in-depth information and help you make the right decision.
HOW DO MARINE AUXILIARY ENGINES WORK?
Auxiliary engines are critical components of a marine vessel's power system. Unlike main engines, auxiliary engines provide generator power to a vessel and keep all of the onboard electrical applications running. The marine auxiliary engines at Thompson Marine are highly customizable to individual vessels and their existing systems.
HOW DO I KNOW IF I NEED TO REPLACE MY MARINE AUXILIARY ENGINE?
Many signs can indicate that you may need one or more new auxiliary engines for your boat, including:
You notice there is a power imbalance on the vessel.
The generator is struggling or failing to take the rated load.
The generator is over-speeding.
You find unusual particles in the filters.
You hear unusual sounds coming from the auxiliary engine.
The lube oil has been degraded.
You notice unusual crankshaft deflection readings.
You sense that the generator is overheating or running more than usual.
Any abnormality can justify a thorough examination. You never want to be miles from shore in the event of auxiliary engine failure. Remember that frequent engine maintenance can help increase your engines' longevity.
If you need to replace your auxiliary engine, our trusted team of professionals at Thompson Marine is here to help. We have an extensive selection of top-quality Cat marine auxiliary engines that you can customize according to your vessel's needs.
ORDER COMMERCIAL AUXILIARY ENGINES FROM THOMPSON MARINE TODAY
We serve business owners and fleet managers on the Gulf Coast with the best of Cat marine engines and reliable, trustworthy service. If you're in the Florida or Alabama coastal areas and need a high-quality marine engine, place your order at Thompson Marine today. Have a few questions? Give us a call at 800-547-0760.